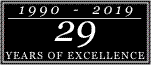 TABLE OF CONTENTS

Things to Consider When Selecting
a Screen Door Style

Features of your Entry Door

Try to select a screen door style that will frame or mirror key elements of your entry door, such as windows, ovals, panels, and rails. Try to imagine what your choice will look like in front of your entry door.

Our Jefferson style 122 is a perfect complement for a traditional 6 panel entry door and a great choice for a Colonial home, with harmonious lines when seen together, yet lending a continuity of style with welcome light when the entry door is left open.




For some larger doors, we may suggest a 12-inch middle rail with proportionally larger spindles and rails.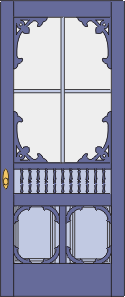 Giving us a detailed sketch of your entry door, with dimensions of its key elements, will enable us to tailor our design to perfectly match the features of your entry door, as we did with these customers.

Be practical

Doors with a middle rail have two removable screens or storm panels, which meet at the bottom portion of the rail. The full view styles have only one large panel. If you have animals or children (or plan to), there is a big advantage to having a style with two panels. You will have the flexibility of leaving the safety glass storm panel in the bottom of the door year-round (which little hands and paws cannot tear or dent), and still have a large screen in the top of the door in the summer. The result is a beautiful view with plenty of light and air, but without the constant aggravation of policing and repairing the screen. Like automobile windshields, safety glass is extremely strong and would crumble if it ever did break.


Structural integrity should also be considered. The stiles of very tall doors are more likely to stay straight if they are joined by a middle rail. Unlike some companies, we tenon, glue and peg our middle rails, which adds strength. We will also recommend following certain parameters in sizing elements of the door based on sound design principles.