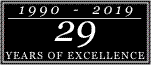 TABLE OF CONTENTS

Wooden Screen Doors: What Makes Them Last

Select a screen door that is made of a wood that will best withstand the full range of exposure in your neck of the woods (humidity, temperature, moisture, and sun).

A popular misconception: ďIím painting my door, so the wood choice isnít important.Ē Simply not true. Painting wood does NOT prevent dimensional changes in wood. As humidity varies, so does the moisture content of wood. Yes, painting helps reduce, but does not exclude, moisture exchange. And can painted wood rot? You bet. Just ask anyone with an old house who has torn off rotted pine or poplar gingerbread, balusters or doors. Mahogany has exceptional stability and rot resistance and that is why we have chosen it over other woods for our screen doors. Itís also pretty if youíre not going to paint. If you have any doubts about the importance of wood choice (painted or otherwise) for an exterior door, I encourage you to do some unbiased research of your own before you spend your money.